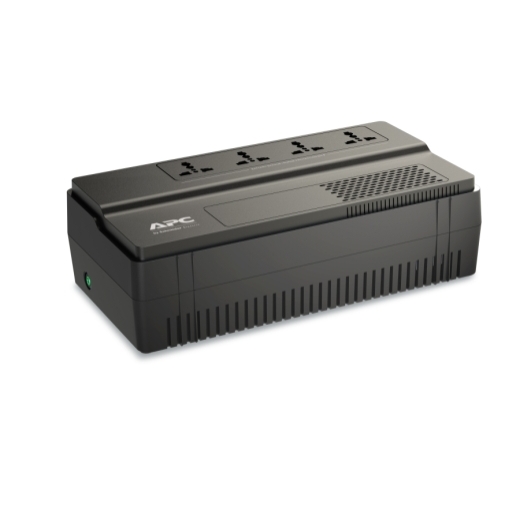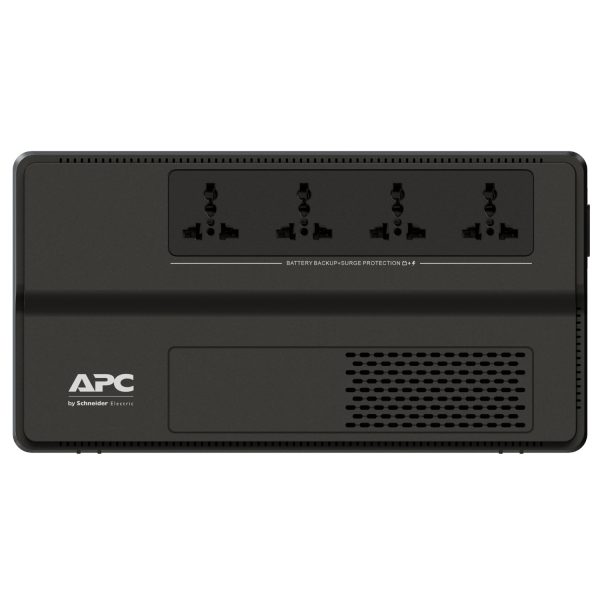 APC Easy UPS BV 1000VA AVR Universal Outlet 230V BV1000I-MSX
UGX 450,000
Easy UPS protects against power outages, delivering steady and reliable connectivity even in the most crucial situations.
Description
Specifications
Description
APC BV1000I-MS EASY UPS. Defend your home communication devices and family PCs against damage and file destruction from unexpected power grid changes, including surges and even lightning. Our worry-free UPS backup and APC surge protectors deliver industrial-strength protection and reliability for your most important electronics.
APC BV1000I-MS Features
BV1000I-MS – Uninterruptible Power Supply 1000VA (AVR, 4 Universal Outlets)
For home and small office customers APC by Schneider Electric delivers a new category of UPSs designed for the essential power protection needs even in the most unstable power conditions.
Power backup and surge protection
APC Easy UPS BV Series is a versatile UPS developed to handle inconsistent power conditions.
It delivers flexible design for both high and low powered devices.
Stay connected.
Capable of powering low power devices such as your modem, router, or VOIP as well as high power devices such as PCs, and gaming consoles.
Maximum power output 1000 VA / 600 W.
4 x universal, multi-socket battery backup outlets. Estimated runtime at 120 watts load – 17 minutes.
Easy to use – one step battery connector
Cold start function – allows you to reboot the UPS even when there is no utility power available.
Automatic Voltage Regulation (AVR)
Corrects voltage dips and surges to safe levels which is especially important for regions with poor power. This also saves battery life by correcting sustained voltage fluctuations without losing battery power.
Automatic Voltage Regulation (AVR) – Corrects voltage dips and surges to safe levels

Reliable surge protection – protects your valuable electronic devices against damaging surges

Wide outlet spacing – allows you to connect bulky transformers without blocking other outlets.

Compact size – accommodates installation in a variety of environments

Intelligent off-mode charging -continues to charge the battery even when the UPS is off

Easy to use – one step battery connector
| | |
| --- | --- |
| cable length | 1.50 m |
| colour | Black |
| depth | 30.5 cm |
| height | 9.25 cm |
| mounting preference | No preference |
| product weight | 5.7 kg |
| mounting mode | Not rack-mountable |
| two post mountable | 0 |
| USB compatible | No |
| width | 16.05 cm |
Input

| | |
| --- | --- |
| network frequency | 50/60 Hz +/- 5 Hz auto-sensing |
| plug standard | BS1363A British |
| input voltage limits | 170…280 V |
| number of cables | 1 |
| input voltage | 230 V |
Output

| | |
| --- | --- |
| rated power in W | 600 W |
| Maximum configurable power in W | 600 W |
| output frequency | 50/60 Hz +/- 1 Hz unsynchronised |
| UPS type | Line interactive |
| Wave type | Stepped approximation to a sinewave |
| nb of power socket outlets | 4 universal receptacle |
| curve equation | Efficiency |
| curve fixed loss | 0.0232 |
| curve load maximum | 100 % |
| curve load minimum | 3 % |
| curve proportional loss | 0 |
| curve square loss | 0.0035 |
| curve X-axis maximum | 100 % |
| curve test cond ID | Curve fit of data measured in accordance with the ENERGY STAR Test Method for Uninterruptible Power Supplies. All measurements taken in normal mode(s), at typical environmental conditions, with 230V/50Hz electrical input and balanced resistive load (PF = |
| curve X-axis minimum | 0 % |
| curve X-axis title | Load |
| curve X-axis units | Percentage |
| curve Y-axis maximum | 100 % |
| curve Y-axis minimum | 50 % |
| curve Y-axis title | Efficiency |
| curve Y-axis units | Percentage |
| graph display | 1 |
| output voltage | 230 V |
| Maximum configurable power in VA | 1000 VA |
| rated power in VA | 1000 VA |
| Transfer time | 6 ms typical : 10 ms maximum |
Conformance

| | |
| --- | --- |
| product certifications | CE |
Environmental

| | |
| --- | --- |
| ambient air temperature for operation | 0…40 °C |
| relative humidity | 0…90 % |
| operating altitude | 0…6667 ft |
| ambient air temperature for storage | -20…50 °C |
| storage altitude | 0.00…15240.00 m |
| acoustic level | 40 dBA |
| show note OP temperature | No |
| IP degree of protection | IP20 |
Batteries & Runtime

| | |
| --- | --- |
| battery type | Lead-acid battery |
| number of battery filled slots | 0 |
| number of battery free slots | 0 |
| liquid value | 0 |
| battery curve | B |
| battery life | 3…5 year(s) |
| extended runtime | 0 |
Communications & Management

| | |
| --- | --- |
| control panel | LED Status display with on line : on battery |
| alarm | Alarm when on battery : distinctive low battery alarm : overload continuous tone alarm |
Surge Protection and Filtering

| | |
| --- | --- |
| Surge energy rate | 156 J |
Packing Units

| | |
| --- | --- |
| Package 1 Weight | 6 kg |
| Package 1 Height | 23.7 cm |
| Package 1 width | 14.3 cm |
| Package 1 Length | 37.3 cm |
| SCC14 | 10731304344053 |
Offer Sustainability
Sustainable offer status

Green Premium product

REACh Regulation

REACh Declaration

EU RoHS Directive

Compliant
EU RoHS Declaration

Mercury free

Yes

RoHS exemption information

Yes

Environmental Disclosure

Product Environmental Profile

Circularity Profile

End of Life Information

Optimized Energy Efficiency

Energy efficient product

Take-back

Take-back program available